If you are looking for an easy way to dress up your windows or you want something out of the ordinary, scarf valances may be just what you're looking for. A scarf valance can be used with curtains, blinds, shades or used alone to provide a chic look while still allowing plenty of light to enter through the window. You can buy ready-made scarf valances or make them yourself. If you don't know how to sew or you don't own a sewing machine, don't worry. You can still make a scarf valance without touching a needle or thread, as long as you have an iron.
You'll need to install some hardware to support your scarf valance. Look for a decorative curtain rod to hang the valance from. Any type of curtain rod will work but you may want to stick with a wooden curtain rod. This way, you can secure the fabric with thumb tacks if necessary. Wood rods can also give the window treatment a classic, upscale look. Add interest with decorative finials.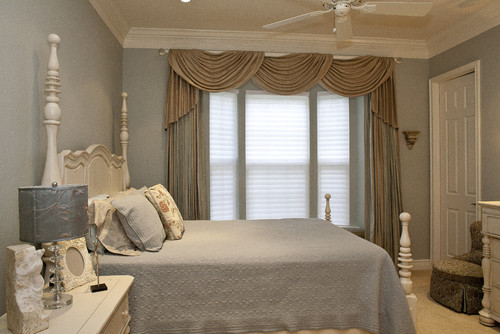 An easy way to figure out how much fabric you need is to multiply the width of the window by three. if you have a very large window and you plan on using multiple swags in your scarf valance, add about 10 to 15 inches for each swag.
To hem your fabric without sewing, lay the fabric out on the floor. Fold approximately 1 inch of fabric over and press the seam with an iron. Insert hemming tape into the fold and iron again to secure the hem. Repeat this for each side of the fabric.
There are several methods for hanging a scarf valance, depending on the look you want. For a single swag with symmetrical amounts of fabric hanging on each side, you will need to find the center of the fabric and mark it with safety pins or tape. Mark the center of the curtain rod as well. Fold the fabric in accordian style folds and secure with safety pins or loosely tie string around the scarf to hold the pleats in place. Hold the material up to the rod and match the center marks. Then drape the fabric over each end of the curtain rod, front to back. Pull down the center into a crescent and adjust the sides. Remove the safety pins or string and adjust the folds as needed.
For more of a designer look, hang the scarf asymmetrically, with one side shorter than the other. You can also install eyehook medallions above the window and thread the fabric through them, with cascades hanging in between. Make multiple cascades for larger windows, looping the material around the rod as you go. Intertwine two colors for a layered look.
For the best results, use a two sided fabric that doesn't have a wrong side that will show when twisting and turning. Silk, satin, chenille or any type of sheer fabric will work well for a scarf valance.